Bangkok - Hotels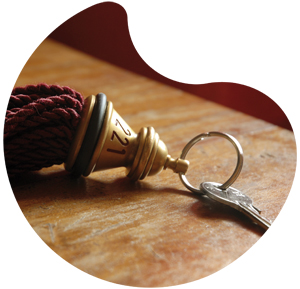 AMADEUS has negotiated a special nightly room rate with the list of hotels found below.
AMADEUS will make your hotel arrangements if required.

Please fill in the hotel booking form request.
For any question please contact us by email: bdettanaton@amadeus.com

An international credit card is necessary for hotel reservation request.

Students are responsible for settling all hotel accounts and accommodation expenses prior to their departure.
HOTEL LIST
Grand CentrePoint - Ploenchit
Book now!

100 Wireless Road, Lumpini, Phatumwan, Bangkok 10330

Deluxe room Single : 3,600 THB
Deluxe room Double : 3,900 THB
Breakfast Incl.
VAT & City Tax Incl.

8 minutes walking distance to Amadeus

Conrad Hotel
Book now!

87 Wireless Road, Lumpini, Phatumwan, Bangkok 10330

Single: THB 5,200++
Double: THB 5,700++
Breakfast Incl.
VAT & City Tax Excl.

3 minutes walking distance to Amadeus

Mövenpick BDMS Wellness Resort
Book now!

2 Wireless Road, Lumpini, Pathumwan
10330 Bangkok
Thailand

Single: 4,237 THB (THB 3,600++)
Double: 4,708 THB (THB 4,000++)
Breakfast Incl.
VAT & City Tax Incl.

16 minutes walking distance to Amadeus

The Aetas
Book now!

49 Soi Ruamrudee, Phloenchit Road, Lumpini, Pathumwan, Bangkok 10330

Single : 3,000 THB
Double : 3,300 THB
Breakfast Incl.
VAT & City Tax Incl.

5 minutes walking distance to Amadeus

Hotel Indigo
Book now!

81 Wireless Road, Lumpini, Pathumwan, Bangkok 10330

Urban Superior: 4,300 THB (THB 3,650++)
Urban Deluxe: 4,825 THB (THB 4,100++)
Breakfast Incl.
VAT & City Tax Excl.

3 minutes walking distance to Amadeus

The Aetas Residence
Book now!

51 Soi Ruamrudee, Phloenchit Road, Lumpini, Pathumwan, Bangkok 10330

Single / Double : 3,531 THB
Breakfast Incl.
VAT and City Tax Incl.

5 minutes walking distance to Amadeus

Conrad Residence
Book now!

87/3 All Seasons Place, Wireless Road, Lumpini, Pathumwan, Bangkok 10330

One Bedroom Suite (54 sq.m.) Single : 3,595 THB (THB 3,350++)
One Bedroom Suite (54 sq.m.) Double : 4,530 THB (THB 3,850++)
One Bedroom Deluxe Suite (64 sq.m.) Single : 5,120 THB (THB 4,350++)
One Bedroom Deluxe Suite (64 sq.m.) Double : 5,700 THB (THB 4,850++)
Breakfast Incl.
VAT & City Tax Incl.

3 minutes walking distance to Amadeus

Novotel Ploenchit
Book now!

566 Ploenchit Rd., Lumpini, Pathumwan, Bangkok 10330

Single: 3,707 THB (THB 3,150++)
Double : 4,120 THB (THB 3,500++)
Breakfast Incl.
VAT & City Tax Ixcl.

10 minutes walking distance to Amadeus

Oriental Residence
Book now!

110 Wireless Road, Lumpini, Pathumwan, Bangkok 10330

Single: 4,000 THB
Double: 4,300 THB
Breakfast Incl.
VAT & City Tax Incl.

5 minutes walking distance to Amadeus

Hotel Muse Bangkok
Book now!

55/555 Langsuan Road, Bangkok, Thailand

Single: 4,237 THB (THB 3,600++)
Double: 4,590 THB (THB 3,900++)
Breakfast Incl.
VAT & City Tax Incl.

20 minutes walking distance to Amadeus